60V 67.2V 16S 60A 16x 3.6V Lithium ion Li-ion Li-Po Battery BMS
57.6V   60V   67.2V   60A  16S Lithium ion / LiPolymer Battery Pack BMS for E-bike
16S  60A  Li-ion / LiPO Battery protection board
57.6V  (3.6V * 16S) lithium battery & packs
59.2V  (3.7V * 16S) lithium battery & packs
67.2V  (4.2V * 16S) lithium battery & packs
Prismatic Lithium Polymer battery (Li-Po)
Balanced current: 60mA (VCELL = 3.90V when)
Balanced for: 4.20 ± 0.05 V
Over-charged Protection: 4.2 ± 0.05 V
Over-charged Release: 4.05 
± 0.05 V
Over-discharged Protection: 2.9 ± 0.05 V
Over-current Protecton: 60 A
Supports Max. Continuing Discharge Current: 60A
Static power consumption: less than 200uA
Short-circuit protection function: disconnect the load from the recovery.
Dimension: 142mm * 53mm
The main functions: Over-charged, Over-discharged protection, short circuit protection, over-current protection, with Balancing function.
The board have balancing function. So you may see a balance connector with 16 wires, below chart shows how to connect the wires onto 16 batteries to realize balancing and protection.
The Positive output on Battery Pack (60V + ) could connecting to charger positive pole (charger +)

Battery Pack (60V -) connecting with B- on board

Chip board 

P- 

connecting to Charger Negative Pole (charger -)

Chip board P- could be Negative output for charger, motor, controller
Battery B+ could be Positive output for charger, motor, controller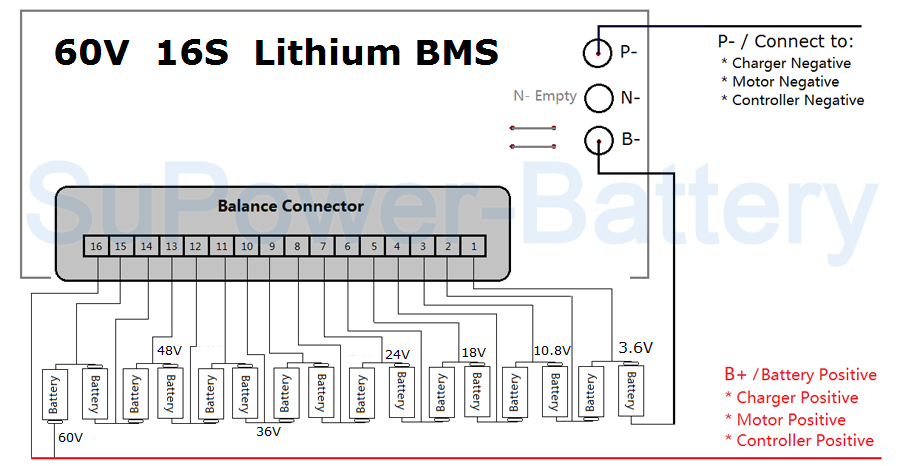 1,  The charging port and the discharge port of the board are the same Positive port. "
B-
" for negative Pole of the battery pack, "
P-
" is negative pole for both discharging and charging. 
2,  "
B-
", "
N-
" , "
P-
" welding pad are through-hole port, hole diameter of 3.5 mm; You could use solder iron to weld the wires through the hole port, Every charging port for battery are the DC needle seat forms output. "
N-
" with no wiring when charging and discharging are in the same port;
3,  First connect the "
P-
" , "
B-
" to the battery pack, then re-check with the battery voltages, then connect the 16 wires onto the batteries, Do not connect in wrong ordering, or it will burn out the board.
If you made wrong connection and reverse the board that will cause smoke, please check with every wire to be sure you are doing correct connection. 
check all the wires voltage with orderly, start from B- , and see if it increasing from 3.6V, like:
 

1       -  2    -   3     -    4    -    5   -   6   -   7   -   8    -   9  -  10  -  11   - 12   -  13  - 14  -  15  -  16
3.7V - 7.4V - 11.1V -  14.8V - 18V - 22V - 25V - 29V - 33V - 36V - 40V - 44V - 48V -51V - 54V - 60V
Check every voltage on the wire step by step before plug in the connector.  Check every wire and see if the orderly are correct. Because if any of the wire get a wrong order, it will get burnt. Smoke shows board already get burnt for protecting the battery being damaged by wrong connection,
 For DIY assembling. Please make sure you are capable to do the assembling before ordering! If you dont know how to do the connection, DONT ORDER IT!
The BMS only use for new and consistent high drain batteries. 

Do not use for battery packs that mix with new & half-used, or mix with different brand battery cells.

Do not use for used and imbalance battery cells.

Do not use for batteries with fake capacity.

Do not touch the board by hand while it is charging / discharging.

If you charge the battery by Lithium Balance Charger, then there's no need to use BMS.
Battery not including, the auction is for BMS only.
Balance Connector will send together with the BMS.
You may also check with charger info. from our online Categories:
Categories - Battery Chargers - 
Lion LiPO eBike Charger

 - 
67.2V
 5A Lithium Charger
Wholesale Welcome!
Shipping:
Items will be shipped out in 2~4 business days (excluding weekend or holidays).
We will ship with the delivery address according to your Paypal payment,please be sure your shipping address is correct
when you pay.
All the shipments will have a tracking number to trace with.
If you do not receive the package over 50 days, please contact us, we will check with the shipping status for you.
Items will be labeled as Gift or Toy Components with under invoicing to avoid import tax. In most of the case,
package will not have any import tax and or handling charges, if any custom tariff duties, buyers will be
responsible to pay the import tax.
BatterySupports.com takes precautions to protect your Personal information. When you submit sensitive information via the website, your information is protected both online and offline. The policy of allowing access to this Personal Information is only to our staffs with a need to process your order. We also use available technology and encryption, when legally required or when appropriate for your protection, to provide a more secure environment and to reduce the chance of unauthorized access. Personal Information is stored in a secure environment protected by a combination of physical and technical measures. We will not sell, share, or rent this information to any outside parties.